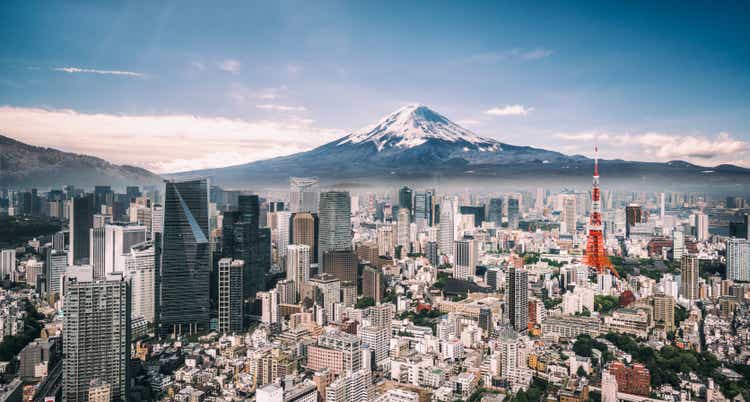 Itochu shares are poised for a breakout (OTCMKTS:ITOCF)
Another Impressive Forecast Increase
Itochu Corp. (OTCPK:ITOCY) (OTCPK:ITOCF) raised its full-year profit forecast again to 820 billion yen in its Q3 2022 earnings release. This comes just a quarter after the company raised the forecast to 550 billion yen. to 750 billion yen and raised the dividend forecast for the year from 94 to 110 yen per share. It exceeded my expectations in my last company review. I expected non-commodities businesses to improve with an easing of pandemic-related restrictions in Japan, but higher prices also continue to benefit commodities businesses.
Itochu continues to be one of the most conservative companies when it comes to balance sheet management. The company has increased its equity by 18.7% so far in the year, while reducing its debt by 10.5%. Japan's interest rates are among the lowest in the world, but Itochu's financial situation should benefit it relative to its competitors if rates rise.
Itochu's ADRs have been the second best performer of Japan's top 5 commercial companies since the release of first half results in November 2021, but are still close to last place over the past year despite strong results from the company.
ADRs repeatedly hit resistance around $66 over the past year in March, May and September 2021, and again recently ahead of Q3 results. Shares are expected to soar to new highs as the company demonstrates with its non-commodity business that it can deliver results beyond the current favorable commodity environment.
Sources of improvement
The 70 billion yen improvement in earnings was well balanced across the business. 40 billion yen comes from the two commodity-based segments, while 30 billion yen comes from other businesses.
The earnings forecast for the Metals and Minerals segment increased by 27 billion yen. Iron ore prices peaked in the summer of 2021 and bottomed around the time of the Q2 earnings release in November. Prices have rebounded significantly since then, with China expected to stimulate its slowing economy by improving demand and weather conditions in Australia impacting supply.
The earnings forecast for Energy and Chemicals is up 13 billion yen. The company's current forecast is based on Brent crude prices of $77/bbl. There is some upside based on recent price movements, and Goldman Sachs has foreseen prize of $100 later this year.
In non-commodity businesses, the General Products and Realty segment saw the largest increase at 15 billion yen. This change is due to the improvement in the North American building materials business and in the European tire subsidiary. The forecast for machinery is up 6 billion yen, thanks to the strength of auto-related activities.
For 2023, the company won't make a forecast until May. However, I will apply the same methodology that I used last quarter to update my estimate. For the two commodity-related segments, I now assume Q4 prices will last through fiscal 2023. This produces an improvement in the estimate over last quarter's assumptions. For most non-commodity businesses, I assume some of the post-Covid growth that I assumed for fiscal year 2023 in my last article has been pushed into Q4 2022. Therefore, I'm lowering my growth rate for these companies at 5%. The exception is General Products and Realty where I always use 10% based on the strength of the lumber market since the last report. Extraordinary gains are assumed to be nil in this estimate. In total, my FY 2023 profit estimate is 713 billion yen. This is down from FY2022, but an improvement from my last estimate thanks to higher iron ore, oil and timber prices. It also means the company is still cheap at 7.65 times earnings in fiscal year 2023.
Evaluation
Comparing Itochu to other major trading companies, it has the second highest P/E at 6.65 times the FY2022 earnings estimate, just below Mitsubishi (OTCPK:MSBHF). It also has the highest price-to-pound ratio at 1.39. While these are "deep value" metrics for a US company, they are premium numbers compared to Itochu's Japanese peers. These bonuses are justified, however, given the quality of Itochu. Itochu has the lowest debt ratio of the five companies at 0.59 and has further reduced debt this year. It also has the highest return on equity and is relatively less reliant on commodity dependent segments. All of these characteristics should make Itochu's stock less volatile than its competitors once commodity markets weaken.
capital management
Itochu quickly deleveraged in fiscal 2022. The leverage ratio of 0.59 is down from 0.78 at the start of the year. Equity/Total Assets improved to 33.5% from 29.7%. With the dividend increase announced last quarter, Itochu is now earning 3.0% based on fiscal 2022 dividends. The company now plans to increase the dividend by at least ¥10 per share each year until in fiscal year 2024.
Free cash flow under the common U.S. definition of operating cash flow less capital expenditures was 475 billion yen for the first nine months of fiscal 2022, slightly lower than 482 billion yen for the last year. Rising commodity prices are a headwind for free cash flow as cash is needed to build working capital at higher prices. Those interested in the Japanese version of free cash flow, which includes cash flow from the sale of assets, or basic free cash flow, which excludes working capital impacts, can view these numbers. in the presentation of results. I like to use the American definition because it's more conservative.
In any case, the 475 billion yen of free cash flow was more than enough to cover the dividend payments of 135 million yen. This includes payments in June and December 2021, so no further dividends are due for that financial year. The remaining free cash flow and a portion of the existing cash balance were allocated to debt reduction.
The company did not repurchase any shares in the first nine months of the year, but began to do so in the fourth quarter of the fiscal year. In January, they redeemed 11.2 billion yen of the authorized 60 billion yen.
Conclusion
Itochu delivered a record nine-month performance and was able to raise full-year earnings guidance. Stocks have been doing well since the Q2 earnings release in November 2021, but again hit resistance at the $66 ADR level. Although the stock is one of the most highly valued trading companies, it deserves its premium due to its low leverage, high return on equity and low relative exposure to commodities. As value stocks move into more favor in 2022, Itochu is likely to break out of its trading range and reach new highs.