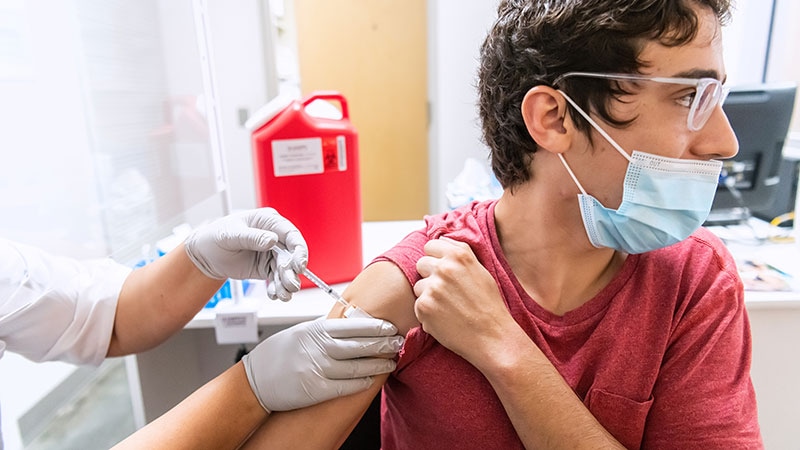 Longer time between COVID mRNA doses may reduce myocarditis risk
This is a summary of a preprinted research study by authors at Public Health Ontario and the University of Toronto on MedRxiv provided to you by Medscape. This study has not yet been peer reviewed. The full text of the study is available at MedRxiv.org .
Key points to remember
The rates of myocarditis or pericarditis among all ages and sexes combined were lower for those with a longer interval between doses 1 and 2 of an mRNA vaccine.

The rates of myocarditis or pericarditis were higher in young men after the second dose of mRNA-1273 than for BNT162b2 as the second dose.
Why it matters
Studies in several countries have identified an association between myocarditis and pericarditis following COVID-19 mRNA vaccines, mainly in young men.

Changes to COVID-19 mRNA vaccination programs regarding product considerations based on age and the use of longer dose intervals may reduce the risk of these events.
Study design
This was a population-based study of all people in Ontario, Canada, who received at least one dose of COVID-19 mRNA vaccine between December 14, 2020 and September 4, 2021.

Researchers identified 19.7 million doses of mRNA-1273 (Spikevax, Moderna) or BNT162b2 (Pfizer / BioNTech) mRNA vaccine doses administered during the study period in the Department of Health's COVaxON database. from Ontario.

A total of 417 cases of myocarditis or pericarditis have been reported under the provincial COVID-19 adverse event system following vaccination.

Upon review at the case level, 297 reports met the inclusion criteria based on the Brighton Collaboration definitions for myocarditis or pericarditis (levels 1-3).

Researchers looked at reported rates of myocarditis / pericarditis after COVID-19 mRNA vaccines by age, sex, vaccine product, dose number, dose interval, and homologous or heterologous vaccination schedule.
Key results
Among all ages and sexes combined, the rates of myocarditis / pericarditis were higher in people with a shorter dose interval (??30 days against ??56 days) and were similar for the Moderna (rate ratio [RR], 5.2; 95% CI, 2.6 – 10.0) and Pfizer (RR, 5.5; 95% CI, 3.1 – 9.6).

The rates of myocarditis or pericarditis were highest in young men, aged 18 to 24, after the second dose of mRNA vaccine (38.1%) compared to the first dose.

The highest rate of myocarditis / pericarditis observed was in men aged 18 to 24 years after Moderna's mRNA-1273 vaccine as a second dose, which was 5.1 (95% CI, 1.9 – 15, 5) times higher than that following Pfizer's BNT162b2 vaccine as a second dose (299 vs. 59.2 per million doses).

No events were reported in men aged 18 to 24 who received a first dose of Moderna mRNA-1273 followed by a second dose of Pfizer BNT162b2; however, less than 9,000 men in this age group received this schedule.
Limits
The data came from a passive vaccine safety monitoring system, which can boost reporting during a period of heightened reporting.

Several reporting rates for product and calendar combinations were based on small numbers, which led to very wide confidence intervals.

The Brighton Collaboration definition does not require a biopsy for the diagnosis of myocarditis.
Disclosures
The study was supported by Public Health Ontario; the Canadian Immunization Research Network (RCIR) with a grant from the Public Health Agency of Canada and the Canadian Institutes of Health Research; and ICES, which is funded by an annual grant from the Ontario Ministry of Health. Co-author Jeffrey C. Kwong is supported by a Clinician Scientist Award from the University of Toronto.

The authors declare no conflict of interest.
For more than theheart.org | Medscape Cardiology, join us on Twitter and Facebook
Credit:
Main image: iStock Photo / Getty Images
Send news tips to [email protected]
Quote This: Longer Time Between COVID mRNA Doses May Reduce Myocarditis Risk – Medscape – 10 Dec. 2021.