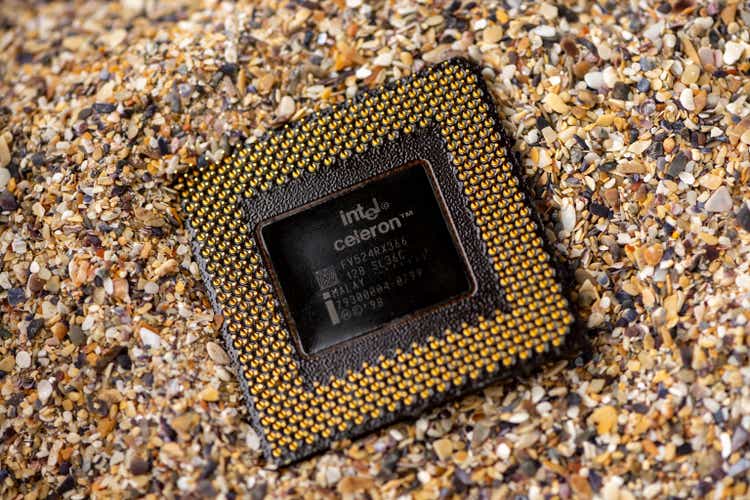 Why I Bought Intel Stock After Earnings – Dividend Investing (NASDAQ:INTC)
The stock market in 2022 continues to present buying opportunities. After seeing the stock market climb for 12 straight months in 2021, it's refreshing to see red days. Finally, some good undervalued dividend stocks to buy at a discount. This week, Intel (NASDAQ: INTC) released earnings and the stock price fell. In this article, I'll tell you why I've decided to raise my position at Intel this week!
Why is Intel's stock price slipping?
The heart of earnings season is upon us. Intel has had an interesting year. The company has struggled against several headwinds. The main story, and headwind, that the company has faced is supply chain scarcity. Throughout 2021, the company has consistently reported semiconductor supply chain issues. This is obviously a major issue for the company. Chip shortages in the global supply chain have left companies like Intel and automakers scrambling to meet growing demand for their products. Demand quickly outstripped supply, leaving these companies between a rock and a hard place until demand waned or supply increased.
The shortage of chips has led to uncertainty about the company's expected results over the next few years. It was a major talking point during the company's recent earnings call. Unfortunately, according to management, the company will be facing supply chain issues through 2023. As a result, the company's stock price has fallen more than 14% in the past 52 weeks.
Fortunately, reinforcements arrive. You know I love companies that represent our home state of Ohio, right? Well, Intel announced a major investment in Buckeye State last week. The company will spend $20 billion to build a state-of-the-art chip manufacturing facility near Columbus, Ohio.
In addition to the Ohio plant, the company also announced the expansion of its Arizona plant. This is huge for many reasons. The company will no longer be dependent on overseas suppliers or factories and can begin to take control of its supply chain, especially since the chips will be made in the United States. Of course, it will take some time to build and open. However, the company is working hard and investing a ton to address the supply issues plaguing the business in the short term.
The chip shortage wasn't the only reason the company's stock price tumbled after its earnings release on January 26, 2022. Despite strong revenue and earnings numbers, the earnings release and the The company's earnings call mentioned a few things that raised concerns. The company saw a 7% decline in its largest business unit, Client Computing. Despite the unit's revenue of $10.1 billion beating analysts' estimates, the decline was concerning, by MarketWatch, as this could indicate that the company may also be facing demand issues. The PC boom during the pandemic has helped Intel's results over the past two years. If the boom comes to an end quickly, the company's revenue and bottom line growth could be severely affected. You don't want supply and demand issues, after all.
In addition, another element to note is that the gross margin of the company has increased from 60% to 55.4%. Still strong margins, but not the trend you want to see.
Looking back, it's still hard to ignore the size of the company. Despite the bad news, the company still posted revenue of $74.7 billion in 2022. Earnings per share were still $5.47 per share. The balance sheet is also strong, with more than $28 billion in highly liquid assets (cash, short-term investments and trading assets). Their operations also produce a ton of cash, with nearly $30 billion in cash flow from operations during the year.
There was another Major announcement last week. It's true, despite some negative news, the company always increased its dividend. That's right, Intel announced a 5% increase in the dividend!
So of course, the company faces short-term headwinds; however, I still love finances. Yet despite the difficult year for Intel, the company still felt confident enough about its future earnings and cash flow to increase its dividend. So naturally I have to see if the company is an undervalued dividend stock to buy.
Dividend Diplomats Dividend Stock Screener
After a deep dive into earnings, it's time to see if Intel is an undervalued dividend stock. After all, the company fell after its earnings release. So let's run Intel through the Dividend Diplomats Dividend Stock Screener after the slide. We use 3 Easy metrics to evaluate each dividend stock. The goal of our stock analyzer is to identify if a stock is an undervalued dividend growth stock to buy.
Here is an overview of the 3 metrics of our stock screener:
1.) Price/earnings ratio lower than S&P 500. Currently, the S&P 500 is trading at a P/E ratio of 24.67X. Last year, the S&P 500 was trading at a multiple of 35x – 40x, which is incredibly high! Historically, however, forward earnings have been between 20X and 25X.
2.) Payout ratio below 60% (although we think a perfect payout ratio is 40%-60%). The payout ratio measures the safety of the dividend. This ensures that the company can continue to increase its dividend during good times and bad. This is why this is a critical metric in our stock screener that we need to assess!
3.) History of increasing dividends. We look at this metric by looking at the company's five-year average dividend growth rate and consecutive annual dividend increases. Since we are long-term investors, it is important for a company to increase its dividend consistently!
Bonus: Dividend yield. We also like to add a bonus measure to our dividend stock analysis. Performance does not determine our decision; however, we would be lying if we said that we completely ignore the dividend yield.
How does Intel perform in our stock analyzer?
For this analysis, we will use the method of Leggett & Platt (NYSE: LEG) share price $48.05 (January 27, 2022, close). Analysts expect EPS of $3.70 per share. The company's annual dividend is $1.46 per share. Now that we have the inputs for our analysis, let's dive into the results.
1.) Price to Earnings Ratio: 12.98x. The stock is trading at less than half the valuation of the S&P 500. Check!
2.) Payout Ratio: 39.4%. A very high payout rate. There is still plenty of room to continue to increase its dividend in the future.
3.) Dividend Increase History: After this latest dividend increase, the company has increased its dividend for 8 consecutive years. The company's average 5-year dividend growth rate is just under 6%.
4.) Dividend yield: 3.03%. wow. After the company's fall, its dividend yield is over 3%. Enough said!
Summary – Buying Stocks
Clearly, Intel is performing well in the stock screen. Over the past year, I have managed to build a pleasant position for me (54 shares) and my wife (50 shares). The positions are very strong, but far from complete. There is plenty of room to continue to develop my position, especially as the company shows strong signs of undervaluation and has strong financials.
So you know what we did, on January 27 when the company's stock price fell 7% after the earnings release, I added 10 shares of Intel at $48.20 per action at my position. Now I own 64 shares! You know what, we can also continue to increase our position if the stock price is below $50 per share in the short term. The ex-dividend date is early February, so I have about a week left to capture the March 1 dividend with an additional purchase. I'm fired up to keep buying!
Are you buying Intel at its current price after earnings? What do you think of Intel in the short term and in the long term? What other stocks do you buy when the stock market is down?
– Bert
Original post
Editor's note: The summary bullet points for this article were chosen by the Seeking Alpha editors.